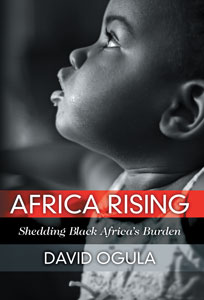 Shedding Black Africa's Burden: Africa Rising
Pages: 160
ISBN: 978-145755-364-6
List Price: 14.99
Category: Nonfiction
Available: August
Edition: Perfectbound
Africa Rising: Shedding Black Africa's Burden is an introspective insider perspective about the burdens that have thwarted progress in Sub-Saharan Africa. Born and raised in Sub-Saharan Africa, Dr. David Ogula reflects on the images and perceptions that have defined Africa for centuries. Images of war, famine, hunger, pandemic, dilapidated infrastructure; abysmal basic utilities and health services, malnourished children, political and economic instability, capture the imagination of the world. Hunted by these images and the urgent need to lead the way toward a brighter future for African children, Dr. Ogula challenges black Africans to take charge of their own development, solve their problems and take control of their own lives and destiny. Africa Rising: Shedding Black Africa's Burden, is in many respects, a bullhorn calling on Africans to shed the images of impoverishment, decline and the appetite for passive consumption of finished products in the 21st century. Africans must create thriving cultures that foster innovation, creativity, economic prosperity and growth.
The book has two parts: The first part describes Africa's burdens, without the defensive shield that often blinds Africans to reflective insights. The second part offers practical solutions to address the enormous deficits in development that persist throughout black Africa. This is the challenge that present and future generations of Africans must tackle and overcome. Devising and implementing lasting solutions that can lighten and eventually lift black Africa's many burdens is a challenging prospect. Only Africans can reverse the crippling effects of their burdens and negative influences, and transform their lives.
Dr. David Ogula was born and raised in Sub-Saharan Africa. As a child, he was curious about life beyond his immediate rural surroundings and dreamt of a better and a brighter future. His pursuit of that dream propelled him to the United States, a world vastly different from his homeland, with almost limitless opportunities. The opportunity and experience of a better life in America proved that the dream of a better life is a reality human ingenuity creates. This realization strengthened his resolve to help those he left behind, especially those children who may never have the same opportunities he had. Drawing from his experience and observations on both sides of the Atlantic, David Ogula provides an introspective insider perspective about Africa's burdens. His assessment of Africa's burdens and the solutions proffered are insightful and compelling. Join Dr. Ogula on this journey to chart Africa's future. Dr. Ogula lives with his wife and children in Long Island, New York. He is devoted most of his time in the United States to mobilizing resources to alleviate the suffering of those he left behind. He works with various Diaspora organizations, professionals, and human rights organizations to build a cross Atlantic alliance between Africans and international partners, promoting economic advancement, freedom, equality and justice in sub-Saharan Africa.
Dr. Ogula is the Director of Human Development and Special Programs at the largest Fire Department in the United States. He was awarded the Leon Lowenstein Award, at the Fire Department of New York for continuing excellence, professionalism and executing human development programs. He has a doctorate degree in management and served as Professor, Vice President and Dean of the School of Business at Apollos University; an educational evaluator for the Distance Education Accrediting Commission DEAC, and a consultant on emerging economies. His publications cover a range of topics including: Chaos Theory and Strategic Management, Attractors; Strange Attractors and Fractals; Corporate social responsibility, and various articles on social and political issues in Nigeria.