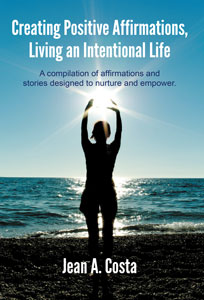 Creating Positive Affirmations, Living an Intentional Life: A compilation of affirmations and stories designed to nurture and empower
Pages: 194
ISBN: 978-145755-723-1
List Price: 15.00
Category:
Available: August
Edition: Perfectbound
This book is designed to encourage you to make conscious choices about how you want to live life, what you want to change, what you want to improve upon and what you value and want to fully appreciate.
Jean Costa, where were you when I was younger? Your vision and powerful insights – underscored by your uncommon gifting in shaping ideas and creating texture – jump off the page.
Reader – and this is not an overstatement – your life can be changed, for how we live begins with what we intend.
Slowly read; ingesting her ideas as they move you from now to where you want to be. Underline. Reread. Tell another. Chat with a friend about what caught your attention. This is life, and it is good. I know dozens I'll send this to.
Brian C Stiller Global Ambassador – The World Evangelical Alliance
President Emeritus – Tyndale University College & Seminary
Jean Costa is a life-long journaler, a teacher and a yogini. Her approach to daily writing led her to Creating Positive Affirmations. She is a former Mathematics teacher and has a Masters in Social Work from UNC, Chapel Hill, North Carolina. She is a registered yoga teacher from the Kripalu Center for Yoga in Massachusetts.
she created the Pink Ribbon Yoga Retreat for women breast cancer survivors under the auspices of The Duke Cancer Patient Support Program. (PinkRibbonYoga) She sits on the DCPSP and the Preston Robert TIsch Brain Tumor Advisory Boards. She also leads workshops which encourage the development of a creative spirit.
She lives in Cary, NC with her husband Sandy Costa, attorney at law, author and speaker.