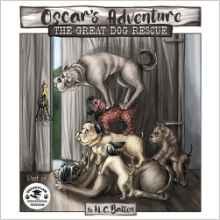 Oscar's Adventure: The Great Dog Rescue
Pages: 32
ISBN: 978-145754-654-9
List Price: 13.00
Category: Children's Books
Available: July
Edition: Perfectbound
Cheeky Oscar escaped one day
from a big puppy farm.
This is a tale of his adventures,
rescuing others with his charm.
This is the heartwarming story of how one determined dog's escape from the harsh conditions of a puppy farm inspires him to rescue other mistreated doggies. Oscar is lucky to find a caring owner; Debra, who rallies the humans, while Oscar and his crew get other dogs barking in support of shutting down the cruel puppy farms.
However, Oscar's mission is not without mishaps. Hard as he tries, mischief always seems to find him, resulting in antics that will tickle readers and make them fall in love with him over and over again.
The Great Dog Rescue details Oscar's exciting and sometimes risky escapades saving puppies from lives of unkindness. Let brave Oscar and his adorable friends educate you about the dangers of puppy farms and the need for Oscar's Law. Encourage puppy lovers to buy their lovable furry friends from more trustworthy sources.
Born in August 1976, Natalie Batten was the youngest of four daughters and was raised in Melbourne, Victoria. Her childhood was a very happy one, and it nurtured her budding creativity. From an early age, Natalie was inspired to write creative stories and illustrated them, bringing her imaginative stories to life. After observing the young Natalie for some time, 'Ferny' (her most notable lead character) was so intrigued that he visited her. He had been looking for a trustworthy gatekeeper on Earth with whom to share the secrets of his world. This person would also be entrusted with the task of sharing these secrets when the time was right, in order to help innocent creatures. As a young girl, under Ferny's guidance, Natalie's artistic talents were intensified. She had extraordinary flair and a natural talent for creating pantomimes, dance concerts, games, puppet shows and movie scripts, capturing the hearts of other young children and adults as she entertained them.
Natalie went on to major in Art & Mathematics, and subsequently worked over 18 years in accounting and business management, finally progressing to contracting her business services directly. She also received 'recognition of prior learning' in Diploma of Accounting. But she didn't leave her inventive side behind. Natalie also completed several courses, including, Fantasy and Science Writing and Professional Children's Writing courses. She also completed art classes.
She explored several business ideas of her own, owning and operating her first business by the time she was 18 years of age. Remembering the valuable lessons from Ferny, every one of her ventures stimulated the imagination of children, ranging from live pantomimes and children's theme parties to handcrafted and painted themed bed suites for children and pets. Natalie's passion to encourage others to follow their dreams is evident in all of her writing, which has an inspirational undertone sprinkled with her sense of humour.
At the age of 30 (exactly 20 years from her first encounter with Ferny), Ferny returned to officially appoint Natalie as the Earth Gatekeeper and to tell her what the role would entail. She was to share the truth about imagination and protect the secret gateway between Earth and the dimension where Ferny lived. Ferny knew Natalie was ready. She would share the world of The Enchanted Empire® by writing fantasy books, and she would use her creations to help her four legged friends, like Ferny, on Earth. Her lifelong dream is to provide sources of enjoyment, entertainment and inspire the imagination of children of all ages using tales from the mysterious enchanting world.
Save
Save