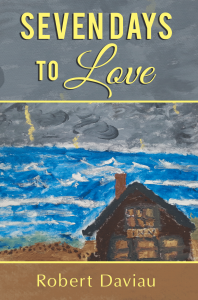 Dog Ear Publishing releases "Seven Days to Love" by Robert Daviau.
Lance and Vicki are an unlikely couple who find themselves falling in love in this new book released by Dog Ear Publishing. Unfortunately, their new love is on the clock: The couple has only seven days to cherish their new relationship.
Lance Bonner was 67, a former military pilot, a longtime trial lawyer and alone. Reluctantly, Lance turned to the crazy world of online, hoping to find someone with whom he could share some meals and a few laughs; he never counted on finding love, and his story is detailed in this new novel. Vicki was 32, divorced and very particular about the men she dated. Lance's willingness to show vulnerability as well as his kindness and integrity interested her.
When they met, Lance was shocked: How could he possibly date someone 35 years his junior? Before he knew it, he had fallen head over heels for the attractive, intelligent, witty woman. They had just seven days. When the seventh day was about to expire, Lance was heartbroken. But this was nothing compared to the heartbreak that would ensue.
Lance was forced to make an impossible decision, not knowing that everything he was sure he knew was just a facade. How will Lance continue without the love of his life? Will he have to? "Seven Days to Love" is a romance with twists and turns that will keep readers wondering what will happen next. Lance is a hero in the best sense, and Vicki is most definitely his match.
Author Robert Daviau tapped into his own background as a Marine lawyer to create his lead character, and his own beloved wilderness camps in western Maine helped to provide the book's backdrop. Daviau lives in Rangeley, Maine with his wife, Norma. This is his second novel
——————-
Seven Days to Love
Robert Daviau
ISBN: 978-1-4575-3800-1                        240 pages                        $14.95 US
Available at Ingram, Amazon, Barnes & Noble and fine bookstores everywhere.
About Dog Ear Publishing, LLC
Dog Ear Publishing offers completely customized self-publishing services for independent authors. We provide cost-effective, fast, and highly profitable services to publish and distribute independently published books. Our book publishing and distribution services reach worldwide. Dog Ear authors retain all rights and complete creative control throughout the entire self-publishing process. Dog Ear Publishing reviews services and other book marketing services are available to connect great content with interested readers. Self-publishing services are available globally dogearpublishing.
Dog Ear Publishing – self-publishing that actually makes sense.