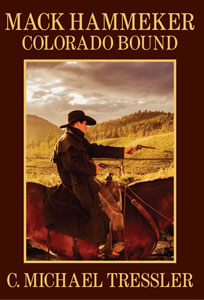 Mack Hammeker: Colorado Bound
Pages: 340
ISBN: 978-145754-887-1
List Price: 16.99
Category: Fiction
Available: August
Edition: Perfectbound
Mack Hammeker made a name for himself as a young man rounding up rustlers and outlaws down in Texas. When he mistakenly killed the wrong man in Abilene, he lost his taste for gunplay and some say his nerve. He decided to go back to Missouri, settle down and farm for a living. When he loses his wife tragically almost twenty years later, he is left with four kids, a failing farm and seemingly no way to get his life back together. That all changes when an action packed week suddenly gives him the opportunity to move west with his kids and start afresh. His family comes together in their adventure to build a new life, befriending the local townspeople and Indians alike in the process. Hammeker might even be ready to find a new love interest. But just when things seem to be headed the right direction, an ornery outlaw by the name of Jack Slade threatens to take away all that Mack has worked to regain.
An entertaining mix of history and imagination, Mack Hammeker: Colorado Bound is the tale of a fictional family's migration westward in the 1860s along the Overland Trail to where Fort Collins stands today. The story is interlaced with real historic places, events and fictionalized versions of real characters from northern Colorado such as Jack Slade, Auntie Stone, Ben Holladay and Antoine Janis.
Mike Tressler became enthralled with history at a young age while playing on the battlefields of Yorktown near his childhood home in Virginia Beach, Virginia. As an adult, his career as a business professional and veteran of the United States Air Force took him all over the world and he became engrossed in the local history of each place he lived: Virginia, California, Texas, Germany, and Australia. Now residing in northern Colorado with his wonderful wife, Sonia, Mike once again dives deep into local lore.