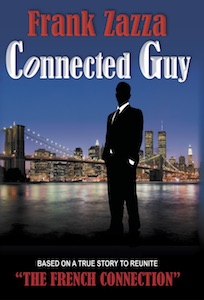 Connected Guy
Pages: 290
ISBN: 978-145754-241-1
List Price: 29.95
Category:
Available: August 1
Edition: Hardcover (DJ)
Creative Statement
I've been waiting thirty years to tell this story. I grew up in Brooklyn, only son to an Italian immigrant father and mother. My father was a Longshoreman, broke his ass on the docks to put food on the table. As for my mother, well, I was the apple of her eye. Unfortunately, they both died of cancer when I was in my twenties.
I am a survivor. My creed was to always have my shit together when opportunity knocks. That opportunity came my way in the summer of 1982 when I was the manager of one of the hottest clubs in New York.
Logline
A quick-witted club manager reunites The French Connection only to find out that his greedy wiseguy connections have made other plans about his future.
Snapshot
Wisecracking, fast-talking Jimmy Valentino is not really connected to the Mob. He just makes his nightclub their favorite place to party. That all changes the night Marcel and his crew walk in. They want to restart The French Connection—the infamous drug supply route. They ask Jimmy to set up a meeting with his Italian club patrons who are wiseguys. As a wannabe connected guy, Jimmy tells "Bobby Hops", his only mob connection about the request. This triggers events that get Jimmy to take his newly found relationship with the Frenchmen to new levels. Soon Jimmy is in deeper than he ever wanted to be.
If that's not bad enough, Jimmy is seductively wining and dining a savvy teacher from Queens who has only one flaw. Her protective and paranoid father is the head of a rival Mafia family.
This humorous crime drama vividly portrays New York in the 1980's. Based on a true story, Connected Guy depicts an era in which greedy wiseguys ruled. Their mannerisms, the cadence of their speech, are captured perfectly in a saga that winds from Jimmy's old Brooklyn neighborhood to the bright lights of New York's club scene to hotel rooms in Midtown where the major players make the deals.