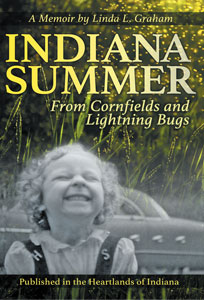 Indiana Summer: From Cornfields and Lightning Bugs
Pages: 156
ISBN: 978-145754-633-4
List Price: 12.95
Category:
Available: June
Edition: Perfectbound
When Linda sets off to school for the first time, she is eager to learn to read actual words-not just repeat children's stories from memory. Right away, however, she is confronted by ridicule. Growing up in Indiana during the '50's and '60's, Linda searches for approval and acceptance by classmates, teachers, and family members. Feeling isolated and often rejected, she turns to the magic and beauty of nature and animals, finding momentary companionship.
In the compelling and often humorous memoir, Indiana Summer, Linda makes a discovery, but only after moving two thousand miles from rural Indiana, to the West Coast. Following the ordeal of a critical, endangering incident, she comes to a realization that changes her life.
Linda L. Graham loves reading and writing, and began creating her own stories at age nine. She is an instructor in English as a Second Language at a community college in the Portland, Oregon area. She has taught English and other subjects for a total of thirty seven years, both at the high school and college level. Prior to that, Linda served as editor of a state- wide tabloid newspaper.
Linda received her Bachelor of Arts degree in English from Warner Pacific College, Portland, Oregon. She earned a Master's Degree in Teaching from Lewis and Clark University, Portland, Oregon.
Linda lives in the Pacific Northwest, enjoying outdoor pursuits with her family, including camping, hiking, and swimming. She meets weekly with other local writers and participates in a book club and church activities. She and her two Manx cats reside in the Portland, Oregon area.