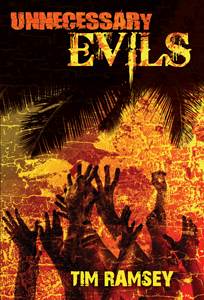 Unnecessary Evils
Pages: 308
ISBN: 978-160844-578-3
List Price: 14.88
Category: Fiction
Available: October 2010
Edition: Perfectbound
Quirky Captain Curran, warrior, adventurer, philosopher and orphan from Philadelphia, thought his botched search for an energy weapon in Panama and the Caribbean was strange enough (more fishing, surfing, sailing adventure than mission), but now someone's wife is dead, his best friend is missing and the whole team is surrounded by evil. You can always count on your friends, comrades and superiors…or can you?
Tom Curran and his best friend Constantine Caraballo are two army soldiers from Philadelphia, with two different backgrounds. One is an unmarried orphan raised by the Catholic Church with friends all over the world, while the other is married and from a big Italian family that he knows as his whole world. Their quirky special operations team gets assigned to a government agency for the purpose of tracking down an energy weapon, and things don't go as planned. Trouble seems to come at the team all at once and they find themselves searching for a friend, protecting themselves from evil and uncovering the corrupt forces working against them. Their travels take them to places like Philadelphia, Cuba, Panama and Jamaica, and they travel on boats, helicopters and airplanes in search of a friend, an energy weapon, good coffee, good surfing and fishing and the truth behind who wants them all dead. Although they're surrounded by adversity, they relish the adventure and realize the only way to survive is to stay together. They move from crisis to faith as they discover and overcome the depths of evil and corruption around them. The story is a dynamic adventure tale about friendship and brotherhood in the face of adversity, life and death, good and evil, keeping your sense of humor, and getting some payback!
Tim Ramsey, born 8 July 1964, taps into his adventurous past to bring you Unnecessary Evils. He grew up fishing and surfing in the Jersey Shore town of Sea Isle City, NJ. He graduated from Valley Forge Military College in Wayne, PA and Eckerd College in St. Pete, Florida. In addition to serving in the New Jersey National Guard, Army Reserve, and regular Army, he worked for short periods in his early life in the Atlantic City casinos, as a stockbroker and financial sales rep, on a loading dock, as a truck rental agent, boat builder, computer trainer for a trucking company, and in a marina. Two places he credits with giving him some of life's most important lessons were working on the greatest beach patrol in the world (the Sea Isle City Beach Patrol), and as an Emergency Medical Technician for the Sea Isle Ambulance.
His years as a government nomad helped him surf and fish the east coast, Costa Rica, Panama, Bali, Hawaii and points in-between, and sent him to Korea, Honduras, Haiti, Belize, Miami, Washington DC, Kuwait, Iraq, Afghanistan and other "exotic" locales.