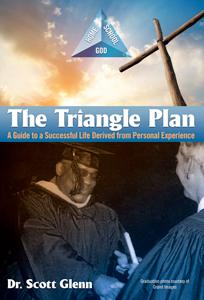 The Triangle Plan: A Guide to a Successful Life Derived from Personal Experience
Pages: 232
ISBN: 978-145750-537-9
List Price: 19.95
Category: Autobiography & Biography
Available: September 2011
Edition: Perfectbound
Dr. Scott Glenn was raised outside of Philadelphia in the blue-collar borough of Pottstown, Pennsylvania. Here, along the Schuylkill River, Dr. Glenn learned the principles of life from a loving family and a close-knit community. Dr. Glenn's book, The Triangle Plan, is the story of his life journey, a journey conceived in love, challenged by the imperfection and uncertainty of life, which has led to the development of a philosophical strategy for happiness and success based on a moral consciousness. The book follows Dr. Glenn's relationships with his patriotic father, spiritual mother, and close brother; his football achievements at Pottstown High School; his experiences as a record-breaking running back and future Hall of Fame recipient at West Virginia University Institute of Technology; and his induction into the Pennsylvania Sports Hall of Fame. His story includes snippets from his days as a proud U.S. Marine, his high school and college football coaching career, and his doctoral journey, which reflects his commitment to educational excellence.
The constant thread evident throughout Dr. Glenn's story is his philosophical strategy of success, a triangle of principles that includes God, family, and country. Dr. Glenn explains how morals, values, ethics, and the Christian faith all form part of the triangle to encompass three disciplines: home, school, and God. The morals, values, and ethics of today are different to those apparent in the days of our forefathers. The Triangle Plan addresses various aspects of American society, including politicians, Hollywood stars, sports personalities, and other authority figures not representing true morals, values, and ethics. True love and a clear understanding of morals, values, and ethics are lacking in society. Dr. Glenn gives sound recommendations for a successful life in each of the three sections of the book related to a specific side of the triangle. The recommendations emphasize the understanding and teaching of three types of love. Specifically, Dr. Glenn shares his leadership disciplines, with a focus on Marine Corps leadership principles and traits, and champions the importance of diversity through his diversity model of effectiveness.
Through The Triangle Plan, Dr. Glenn describes his life experiences as well as the experiences of prominent and distinguished people who have influenced his life. The Triangle Plan is a road map to success in life, a guide to a happy and fulfilling life, which reflects one person's journey directed by a moral compass, good values, and sound ethics.
A native of Pottstown, Pennsylvania, Dr. Glenn was a three-sport standout in track, basketball, and football at Pottstown High School where he shone as an all-state performer. Dr. Glenn was a two-time first team all-Ches-Mont League running back, District I (Pennsylvania) first team player and all-star, and Montgomery County's (Pennsylvania) Most Valuable Player in the 1984 All-Star Game. Dr. Glenn attended West Virginia University Institute of Technology where he majored in history and government. During his tenure at West Virginia Tech, Dr. Glenn earned a couple of Who's Who in America nominations along with two All-American honorable mentions and became a two-time league leading rusher and two-time first team all-league selection as a running back. Dr. Glenn is currently West Virginia Tech's all-time leading rusher. While pursuing a career in professional football, Dr. Glenn encountered some difficult times before enlisting in the U.S. Marine Corps.
In 1993, Dr. Glenn enlisted in the U.S. Marine Corps where he served as an outstanding M1A1 tank commander and earned meritorious promotions. During Dr. Glenn's term in the Marines, he was named Marine of the Year and Powerlifting Champion of the Camp Lejeune 2nd Tank Battalion in North Carolina. His tours in the Corps included Operation Able Vigil (Cuban refugee crisis) and Operation Uphold Democracy (Port-au-Prince, Haiti, crisis).
After serving honorably for four years, Dr. Glenn embarked on his remarkable career in education and coaching. He helped to start and maintain alternative educational programs in Pennsylvania and other states during his employ as an educator and an administrator. In 1999, Dr. Glenn served as assistant football coach at Unionville High School (Chadds Ford, Pennsylvania). From 1999 to 2001, he mentored the running and defensive backs, served as defensive and offensive coordinator, and coached in the Delaware County (Pennsylvania) All-Star Game. In 2002, Dr. Glenn became one of Chester County's first high school African American head football coaches. In his first year as head coach at Unionville, Glenn turned the program around from a 2-19 to a 4-3 record in league play, the best result in several years. Glenn further holds a couple of team offensive records as head coach in the Valor Bowl (Chester County, Pennsylvania) All-Star Game.
Glenn coached at Albright College (Pennsylvania) from 2004 to 2006 using his experience in several areas while working as running back coach, defensive back coach, and special teams coordinator over the three years. During 2007 and 2008, Dr. Glenn served as the defensive coordinator for Pottstown High School (Pennsylvania). Dr. Glenn was inducted into both the West Virginia University Institute of Technology Hall of Fame and the Pennsylvania Sports Hall of Fame (Tri-County Chapter) in 2009. In 2010, in his first and only year as assistant coach at Division II Kutztown University (Pennsylvania), Dr. Glenn helped the team achieve its best football season ever with a 10-2 record to earn its first playoff appearance in school history.
Dr. Glenn holds a bachelor's degree in history and government, a master's degree in business and marketing, and a doctorate in education. He is a member of the American Football Coaches Association (AFCA), the Marine Corps League, and the Calvary Fellowship in Downingtown (Pennsylvania). Dr. Glenn is also a published author, writing various articles such as "Adding Motivation to Coaching Concepts Can Be Self-Contagious" for the AFCA and "Pennsylvania Football: An American High School Tradition Featuring the Ridley Raiders." Dr. Glenn's dissertation is entitled A Qualitative Ethnographic Study of African American Leadership in Higher Education Administration. He has further authored a book, The Triangle Plan: A Guide to a Successful Life Derived from Personal Experience.