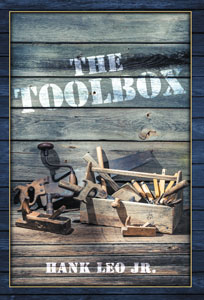 The Toolbox
Pages: 128
ISBN: 978-145754-708-9
List Price: 12.95
Category: Inspirational
Available: June 2016
Edition: Perfectbound
When he finds the rusty toolbox in the corner of his garage, Hank Leo is reminded of his dad and the numerous times he would contribute tools to that box. From hammers and nails to tape measures and markers, Hank Sr. was not only adding to his son's home repair kit, but to his repertoire of life management skills.
The Toolbox is a wonderful collection of stories that allows the reader to reminisce about their relationships with their fathers, their families, and God. Who would have known that weekly contributions to Hank Jr.'s chest of tools would come to mean so much to him later in life? Whether hunting with his mother-in-law, trying to change a headlight on his car, or offering comfort and support to a friend, Hank finds himself taking a second and third look at the tools his father left him, learning lessons from how they have worked through the ages and how their qualities and capabilities can be applied to everyday situations.
Hank Leo Jr. is an award-winning American author. His books, Home When the Streetlights Come On, God Called, In Your Hands, and Return to Allen Park, all leave readers with charming memories of a time gone by. Leo's use of honesty, faith, humor, and clever insight share positive messages with audiences of all ages.
His endearing stories of spiritual journeys, growth, acceptance, and inspiration have caused both young and old to pause, reflect, and smile.
Leo serves on a number of volunteer boards and committees, is actively engaged in a variety of charitable causes, and has been a leader in the nonprofit world for over thirty years.