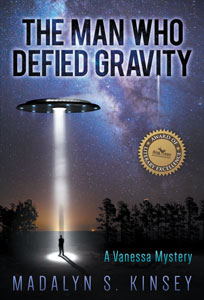 The Man Who Defied Gravity: A Vanessa Mystery
Pages: 260
ISBN: 978-145755-024-9
List Price: 14.95
Category:
Available: September 2016
Edition: Perfectbound
Vanessa and her cousins Luke and Daniel stare in silence at the distant sky. Something large was hovering silently in the night sky. It had blueish-green lights and barely moved as though suspended by an unseen cord. Although it was difficult to see clearly in the dark, Vanessa could make out the silhouette of a round craft about the size of large truck. It had no wings or propellers and didn't look like anything she'd ever seen….
In this third installment of the Vanessa Mystery Series, our heroine, 14-year old Vanessa is again visiting her cousins on the family farm near Fishers, Indiana, as the summer of 1967 is winding down. There's been a mysterious house fi re, and her cousin Luke has seen a multicolored craft hovering silently over the Indiana skies two nights in a row.
Vanessa, Luke, Emma, and Daniel, along with their friend Jim, begin to investigate. Who is the unfriendly new German neighbor, Mr. Kleinschmidt? Could he be a former Nazi? Who is the bald man with the large skull tattoo seen lurking in the woods? And who vandalized their new club house down by the creek?
As the kids boldly follow their instincts, each lead brings them closer and closer to a dangerous confrontation, one that endangers their lives and teaches them that people aren't always what they seem.
Madalyn Kinsey was born and raised in Indianapolis and lived and worked in Chicago and San Francisco before returning home to her Indiana roots where she works as a corporate attorney and author. She studied voice and journalism as an undergraduate at Indiana University, Bloomington, and also received her law degree from Indiana University.
Her Vanessa Mystery Series, set in Fishers, Noblesville, and Indianapolis during the summer of 1967, captures the fun and carefree innocence of another era that Madalyn experienced firsthand as she was growing up among an extended family of aunts, uncles, and cousins. When not reading or writing, Madalyn enjoys travel, classic movies, antiques, and time with friends and family.