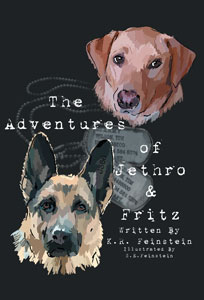 The Adventures of Jethro & Fritz
Pages: 112
ISBN: 978-145752-457-8
List Price: 10.99
Category:
Available: February 2014
Edition: Perfectbound
Jethro, a stray Labrador mix, has made a good situation for himself at Glenwood Memorial Cemetery. Gus, the caretaker of the cemetery, provides him with food, water, and companionship. Everything was just fine until Fritz, a mysterious German shepherd, shows up. The new dog is not a friendly fellow, and he spends most of his time lying morosely on one specific grave, digging up the soil and making a mess. Jethro and Fritz, are not exactly hitting it off until one stormy night when they are thrown together. After that time, an unlikely friendship is formed. Jethro soon discovers that Fritz had an adventurous past including a tour of Iraq as a soldier dog! As Fritz's history is slowly revealed, taking us through his puppy days, army training, and the harsh realities of war, Jethro soon learns that there is never a dull moment when you are with this former soldier dog. The normally tentative Jethro finds himself involved in crazy new situations, as both dogs discover that things in the town of Glenwood are not as peaceful as they seem. Together the two learn to rely on each other as Fritz's brave spirit is renewed and Jethro realizes the courage he did not know he possessed. A moving tale of adventure and hardship as seen through the eyes of two unforgettable hounds.
K. R. Feinstein is a woman in the middle of her life trying to check off items on her bucket list one by one. After 15 years spent working in the elementary school system, and reading incessantly to her children and others, a passion for children's books developed. As a result, she decided to try her hand at writing one herself with all the elements she most enjoyed in her favorite literature. She has three grown children and lives with her husband and rescue dog, Revis (the inspiration for Jethro), in New Hampshire.
S.E. Feinstein is a graduate of Parsons New School for Design and works in New York City as a textile designer. As daughter of the author, she really enjoyed bringing her mother's vision of Jethro and Fritz to life.