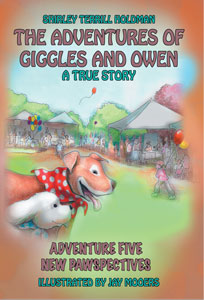 The Adventures of Giggles and Owen: Adventure Five – New Pawspectives
Pages: 72
ISBN: 978-145754-111-7
List Price: 25.95
Category:
Available:
Edition: Perfectbound
Adventure Five brings this series to its end. This book series is written for elementary school children, but may be enjoyed by all ages. The series chronicles a true story told through the voices of Giggles, a Bichon Frise, and Owen, her older friend, an American Pit Bull Terrier. The connecting thread in every book is how these two dogs started a TV program, Canine Capers, which ran for six years on cable TV. On another level, the author presents different situations with humor which opens the doors for discussion with the young reader, like the need for friends with good values, handling bullying, and self-esteem. In each situation, Owen teaches Giggles how to find her confidence by valuing her individuality. Taught through the voices of the dogs, there is no peer pressure, just laughter. Each book contains New England history. Owen's Dictionary may also be found in the back of each book which contains words used in that book. The author and illustrator hope you enjoy this book as much as they have enjoyed putting it together. We would love to hear your remarks.
About the Book:
Shirley Terrill Holdman, sahold@verizon.net (author) earned her undergraduate degree and a Master of Arts degree in Theater Education from Emerson College in Boston. Before closing her Performing Arts Studios of Dance and Drama, she enjoyed directing and choreographing musical theater for summer stock, colleges, community theater and high schools. Shirley loves writing, and has written plays for the stage and scripts for cable TV. Quiet moments include Bible study, gardening, baking cookies and walking with her dogs Giggles and Manny, an adopted Italian greyhound. Working in community outreach programs through her church and local volunteer committees fill her spare time with inspiration and enjoyment. Shirley is the founder of Billerica's all day animal fair Four Paws in Action. The desire in writing this series has been to present situations that will open discussions with the reader so that the importance of self-esteem, confidence, and good decisions will be realized. One of her projects for the last two years has been visiting elementary schools and, with Giggles and Owen hand puppets, entertaining and teaching with Reader's Theater. At the end of each presentation the children enjoy saying, "With pawsistence I can have my goal! Just watch my pawtential." Shirley has donated this series of five manuscripts to the Billerica Adventure Series Corporation to help with their fund-raising. They in turn donate the profits to the community for educational enrichment projects. Recently Shirley was awarded a Lifetime Achievement Award from the Greater Lowell Community Foundation and nominated for the Impact Award by the Billerica Alliance.
Jay Mooers, jaymooers@yahoo.com (artist) was born in Methuen and grew up in Haverhill, Massachusetts. Jay completed his Bachelors of Fine Arts at Massachusetts College of Art and Design in illustration, after which he took to directing and writing stage plays, including a series of epic fantasies and a collaborative musical. He also created the webcomic Next to Nowhere. He continued to illustrate, paint murals and portraits throughout the years. In 2011, Jay completed his first solo novel, Illweed, the success of which prompted him to begin his comic series, Autumn Grey. With two titles under his belt, Jay co-founded Eden Park Tales in 2013 to publish these stories and more. For "The Adventures of Giggles and Owens" Jay used a mix of mediums. He started by inking and then washing acrylic colors over his black and white images. Then he built up his colors with colored pencils and punched up his shadows and lighting effects on the computer. Jay is an avid story-teller and uses every tool in his arsenal to tell them, be it paint, words, or even theater.