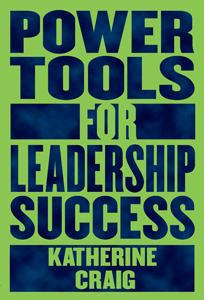 Power Tools For Leadership Success
Pages: 80
ISBN: 978-145751-110-3
List Price: 14.95
Category: Business, Investing & Finance
Available: April 2012
Edition: Perfectbound
This book expands on the exciting work of Katherine Craig, leading-edge business coach. It delivers key tips and a wealth of tools that will fuel your success as a leader.
Learn how to handle a crisis with calm; learn how to run a retreat that will make your team the envy of the organization; learn how to lead with confidence.
Quick and concise, Power Tools for Leadership Success is the ultimate resource for executives, no matter where they are in the leadership journey. Whether you're up-andcoming or trying to reenergize your team, you'll find powerful tools you need to build your leadership skills.
Use the tools. Build your skills. Be the leader you admire now.
Here's what leaders are saying about Katherine and her work:
"… reignited my passion for my job!"
"To the point, clear, and practical."
"…provided a lot of useful information, instead of theoretical activities."
"Katherine was very knowledgeable, enthusiastic and energetic."
"…quick pace … clear and practical."
"I heard some great management and leadership concepts and ideas."
"…insightful and energizing."
"I enjoyed being reminded of the basics, self-reflecting and gaining new strategies and ideas."
"The constant, consistent themes make an impact and are easily recalled."
"Katherine always presents content in entertaining ways using realistic examples we can all relate to …"
"…fast paced, interesting and relevant."
"Katherine is amazing. To the point and concise."
Founder of Spearhead Executive Coaching, Katherine Craig is an industry leader in elevating individual, team and organizational performance. With over 20 years of global experience, Katherine has coached senior executives and teams in healthcare, high tech, business solutions, education, and provincial and federal governments. A sought-after public speaker, her vision, insight and engaging delivery make her workshops, retreats and coaching sessions motivating and relevant. As a thought leader in professional development she has been widely published in trade publications across Canada.
You can reach Katherine by visiting www.SpearheadExecutiveCoaching.com.