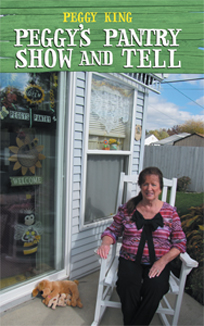 Peggy's Pantry
Pages: 96
ISBN: 978-145753-729-5
List Price: 11.95
Category: Health, Self-Help & Spirituality
Available: July 2015
Edition: Perfectbound
God has a vision. He created me, and through me he sent me to people who had a vision. They spoke God's word. For an example, when I was 10 years old I had a Sunday school teacher who gave me a Bible, and a picture of a man knocking on a door. She told a story of a man named Paul, who was traveling on the road to Damascus with a vision to intimidate the Christians, but as he traveled he was stopped and given a heavenly vision.
I in return received a desire like Paul's. Therefore I have a vision to write the experiences and poems, all inspired from the visions given to me. I have included dates in this book. Not to take away or date the material but to show that all happens and unfolds in God's time.
I was born in August of 1943 at home in Indianapolis, Indiana. At age two my family moved to Evansville, Indiana. It was a simpler time back then. The doctors came to your house to deliver babies. We had Ice Boxes, which were metal boxes with a door that we opened to place a block of ice in (that we bought off the Ice Truck, which delivered to everyone). The ice cream man rode a three-wheeled bicycle that had a big box attached to the front of it; he had a bell on the handle bars that he would ring so we would know he was on our street. I loved Fudge Bars. We never locked our doors, and we knew our neighbors.
My sister Jean and I spent a lot of summer days in South Eastern, Kentucky. I enjoyed the country, Stearns pond, and Grandma Grace's cornbread and fried apples. At age 4 I remember we rented from an elderly lady Mrs. Curtis, and my sister Jean and I were sitting on her piano bench; Mrs. Curtis played, and we sang Jesus Loves Me. I remember all day preaching and dinner on the ground. I thank God for the strong spiritual foundation my mother and grandparents impressed upon my soul as a small child. I view my childhood with great gratitude.