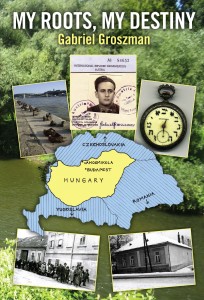 My Roots, My Destiny
Pages: 232
ISBN: 978-145750-574-4
List Price: $16.95
Category: Nonfiction
Available: October 2011
Edition: Perfectbound
My Roots, My Destiny, based on a profound historical investigation and the personal recollections of the author Gabriel Groszman, describes the fate of his family in the context of the history of the Central European Jews during two centuries. The narration takes us from the Jewish Enlightenment and Emancipation through the World Wars and their shattering consequences, culminating in the loss of millions of European Jews in the Holocaust. The family history, narrated through several generations, reflects the shared destiny of Austro-Hungarian and German Jewry and their achievements in spite of discrimination and open persecution leading to exile, survival or death. The story, which unfolds without resentment, takes us with irony and humor from the age of the Hapsburg Empire through the author's own coming of age in an increasingly anti-Semitic Hungary, the Nazi terror, a brief period of democracy, communist dictatorship and, finally, life in Austria under the occupation of the victorious allies.
Following a brief description of life in a small Jewish community in his native village, the author confronts us with the predicament of defining Jewish identity in the face of anti-Semitism. The bitter experience of "not belonging" and the barriers to patriotic participation left an indelible mark on his personality. Most of his fellow Jewish citizens carried on this burden stoically, while others tried to assimilate, "hungarianizing" their Jewish sounding names and even converting.
The captivating narrative is delivered from a teenager's perspective of his family history, his friendships, and his emergence into manhood during a period of disruptive change. As a consequence of the anti-Jewish laws, when Gabriel Groszman was barely 10 years old, the family was forced to move from a relatively benign small village environment to the capital, Budapest. A short time later, his country, allied with Nazi Germany, was at war with the Soviet Union.
At the end of 1943, most of the European Jewish communities had been destroyed by the Nazis, but even as anti-Semitic laws took hold in their country, Hungary's Jews remained oblivious to the surrounding tragedy. Everything changed when the German forces occupied the country on March 19, 1944. The author quotes Elie Wiesel: "Cursed be that day…From that day on, the shadows, din, and flames of enemy destiny would rule the rhythm of our existence." Six hundred thousand out of a million Jews were murdered in the few months which followed.
Gabriel Groszman survived thanks to Swedish diplomat Raoul Wallenberg's safe-houses, followed by life underground. The author's vivid description of liberation by the Soviet Army, the time he spent under communist rule, and his fortuitous emigration takes the reader through the panorama of sweeping political changes shaking Central Europe at the time.