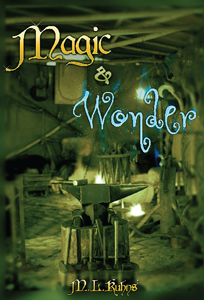 Magic and Wonder
Pages: 244
ISBN: 978-145751-124-0
List Price: 12.99
Category:
Available: May 2012
Edition: Perfectbound
Magic and Wonder is a tale of a young man named Heath who is a simple blacksmiths assistant, living in the kingdom of Ferin, who is forced into a search for a mystical book made by Merlin himself.
This book is filled with Merlin's knowledge and has been sought by others for years. He does not know why he is chosen or if he will be able to complete the task before him, but he may not have a choice.
With the help of friends and other mythical creatures Heath will try to do what no one else has been able to, and find the book, to keep the one man who has discovered a way to find the book from completing that task.
Draken the lord of the kingdom of Durat has searched all over and the final stop is the kingdom of Ferin, and will stop at nothing to claim the book and rule everything. He will have to find a certain person with a certain item that will lead him to it and the power that he craves; the power to rule all worlds and realms. With the help of magic and some mythical creatures of his own he will do whatever he has to, to be the ruler of all.
M.L. Kuhns is a 37 year old man that lives outside a small town in Ohio with his wife and kids. I am a father of three with two stepdaughters. I have lived in this small town area most of my life.
I have recently remarried and am happier then ever. I was born in 1975 and went to school in the same area. Most recently I have developed an urge write and to do something that I realized I love to do and will continue to do.