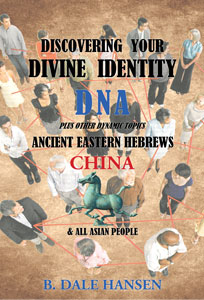 Discovering Your Divine Identity: DNA Plus Other Dynamic Topics Ancient Eastern Hebrews CHINA & All Asian People
Pages: 440
ISBN: 978-145754-084-4
List Price: 29.95
Category: Nonfiction
Available: February 2016
Edition: Perfectbound
Brief Summary of book by the Author:
This is a book about people. People that have lived on this earth from the beginning when the earth provided an environment right for man and woman to live their lives, until … "For after it hath filled the measure of its creation [the total of souls to come dwell], it [the earth] shall be crowned with glory, even with the presence of God the Father. It must be sanctified from all unrighteousness that it may be prepared for the celestial glory." We are not alone in the Universe. God has created millions of earths, like unto our earth, where sons and daughters of God, the Father are progressing. Father is concerned with each one and guides us through prophets, as Adam or Isaiah in the Old Testament or Peter of the New Testament or Joseph Smith in our day. Each of us is different than any person that has lived or will ever live on our Earth. DNA plays an important factor in our spirit body's journey that began eons ago. Fifty years ago, it was inconceivable that science would give answers in our day. The earth took thousands, even millions of years, to be prepared to house man from our premortal life on spirit earth, the residence of our Eternal Father and Mother. A number of epoch periods in the preparation of our earth to be our home, a place that 'pleased the Gods in her preparation.' It would be a preparatory period, a testing period—a time of probation to see if we would abide in the counsel of our Father, God, who sent His Son, Jesus [Jehovah] as Redeemer. Some would be led away by Lucifer, even Satan, who is an enemy to God and His family about right and wrong. 'Eternal Man and Woman' in a revelatory chapter brings understanding about ourselves and our eternal nature. We inherited our DNA of our Eternal Father and Mother as we were born in the pre-mortal sphere. Through Adam and Eve, our first parents, the mortal parents of the children of the earth, the Patriarch of our eternal family. He walked and talked with God, Father in the Garden of Eden. They taught the commandments of God to his children and grandchildren. Our mortal mother's Mitochondrial DNA or mtDNA are the recipients of Eve's DNA having been passed on through her daughters. Our divine identity and all of humanity relate back to Noah and his wife, thus we are all connected as family. Today, we are the beneficiaries of work done by scientists in unlocking the human genome (DNA). Molecular genealogy enables us to trace our links to each other. Epigenetics has an effect on our bodies but does not affect our personal DNA. Our spiritual DNA inherited from our Eternal Father and Mother combined with our mortal DNA is needed in our glorious resurrection. Jesus was 'foreordained before the world was' to be the Creator and Redeemer, we would be freed from our sins. He introduced us to His Father and taught us the plan of happiness. The only person, even a God, could satisfy the law of justice and bring about mercy to all of Father's children. Father sent angels to teach and restore truths to man were often changed or lost. Who they are and why they come to us in the earth. All angels have had relationship in former days on the earth. They teach, restore, and to give guidance to His prophets, "Surely the Lord God will do nothing, but he reveal his secret unto his servants the prophets." Learning of His Temples were restored. Need for ordinances for the notable men and women, who appeared in the St. George Utah Temple on August 22-23, 1877. Requested their ordinance's be performed in the Temple. [Ordinances had been restored in the latter-days by angels of God to the Prophet Joseph Smith]. The doctrine applies to all mankind. Revelations and research has brought knowledge of the Chinese and Asian peoples. Historic markers have been researched and links identified that enables us to know of our extended family. You will have read about "Miss Ku" and her life in China 2300 B.C. About the genealogical system that benefits these great peoples in our day. Learned about the Scandinavian and European connection to the Ten Lost Tribes of Israel, even our United States Constitution benefited by their travels and left earmarks which were captured by the Founding Fathers of our land. Concluding with the Latter-Day Doctrinal Restoration wherein the Lord God promises records shall come forth to enlighten us about many peoples that we do not know about. Text about Abraham with pictures of images consisting of facsimiles in color. Hand painted on the finest Egyptian Papyri that came to me in 2015. Joseph Smith had the papyri in his hands and saw the colors that appeared anciently in Abraham's day. Abraham was told by God that through his seed all persons and families would be blessed.
The author has been engaged in business and in educational colleges over his lifetime– An ardent student of governments, finance, technology, history of people and their culture and in theology. The author has traveled extensively: To Israel including Qumran, place of the Dead Sea Scrolls and Pseud-epigraphic documents, at the Israel Museum and the Shrine of the Book, housing the Dead Sea Scrolls, in Jerusalem. He spent a large amount of time in Hong Kong, China, Korea, Japan, Taiwan, Malaysia, Singapore, India and Brunei for business and later to Canada, Mexico, Scotland, England, Sweden, Norway and Denmark. Had time to teach theology courses. A historical first came in identifying the Chinese and Asian peoples as descendants of Jocktan, son of Eber, making them Eastern Hebrews. Plus, work with Dr. Scott Woodward in DNA field and Epigenetics with its environmental effect on humans. Born in Idaho, he is an alumnus of Utah State University, Logan, UT, LaSalle University, Chicago, IL, The American College, Bryn Mawr, PA, and Dixie State University, St. George, UT. Military WWII: Served in the Air Force R.O.T.C. and Utah National Guard. Business career in financial services and synthetic turf sports industry. In 1982, he served as technical advisor to the sports industry in Australia, member of United States ASTM-F8 Safety committee plus other sports Committees. In his business travels, he explored government forms and belief systems in many countries from the Far East to Europe. He spent four years in Australia as a business consultant. He served on manufacturer's committee for International F.I.H.in Brussels. In 1988, he teamed up with World Champion Tennis Player Jack Kramer in the manufacture of tennis and synthetic turf for sports. He designed the Hansen Perforation System, to make turf porous for surfaces. Golf Target Green facilities benefited from his expertise in Scotland, Sweden and London, England for the Wide World of Golf. He designed the first 'Australian Made' field hockey field in Sydney [the most played on surface in the world] replaced for the Sydney Australia Olympics. He built a synthetic soccer surface for the New Territory in Hong Kong, China. Clients of renown in tennis: To name a few: Steven Spielberg, Johnny Carson, TV moguls, Prince of Brunei in Las Vegas and Wayne Newton, Gloria Estefan in Miami, Henry Bloch –HR Block, former President Yelstin in Russia. He spoke in Inter-Faith panels and other civic and business organizations. He authored a best-selling book, "Light about God & Man—An Enlightened Comparative Digest of Belief Systems: Islam, Judaism, Christianity. He has written several essays on business, government, and religion. The author is married with a family of eleven children. Presently resides in the Color Country in the U.S. Southwest, having moved there from Southern California.