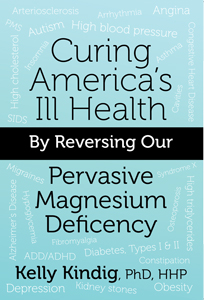 Curing America's Ill-Health By Reversing Our Widespread Magnesium Deficiency
Pages: 128
ISBN: 978-145750-787-8
List Price: 14.95
Category: Nonfiction
Available: February 2012
Edition: Perfectbound
The latest government study shows a staggering 68% of Americans do not consume the recommended daily intake of magnesium. Heart disease, high blood pressure, arthritis, Alzheimer's disease, depression and obesity are a few of the more-than forty diseases attributable to suboptimal magnesium consumption. There are numerous reasons why magnesium intake is so low. Substantial amounts of magnesium are removed from food by the food processing industry, but the magnesium is not replaced.
The agriculture industry over the past century has employed fertilizers (PKN) which produce lush and verdant plants; unfortunately this fertilizer combination inhibits the plant's uptake of magnesium.
Doctors do not apprise patients of their low magnesium stores because there is no widely-accepted test for measuring cellular magnesium.
Supplementation to restore magnesium levels is difficult since many magnesium compounds are laxatives.
The book suggests both dietary and transdermal means to the reader for restoring cellular magnesium.
A national "Champion" to rectify this magnesium-deficient condition is sought, and the role of the Champion is described.
"Kelly Kindig is a serious scientist who has applied his discipline to organizing and articulating the near miraculous, very low-cost, medical benefits of magnesium which have heretofore been hiding in plain sight".
Robert Horton, Chairman, Alchemix Corporation, Carefree, AZ.