Dog Ear authors have published professional-quality custom books that explore a wide range of topics in an equally wide range of reading categories, including Trade Fiction, Non-Fiction, Autobiographies, Self-Help, Cookbooks, Children's, Business, Academic Textbooks, Historical Works, Fiction, Short Story, Poetry Collections and much more.
You can browse a few of our titles below, or check out our full list of titles at our partner booksellers like these below.
View the Dog Ear Publishing title list on BarnesAndNoble.com

View the Dog Ear Publishing title list on Amazon.com
Oscar's Adventure: The Great Dog Rescue
Pages: 32
ISBN: 978-145754-654-9
List Price: 13.00
Category: Children's Books
Available: July 2016
Edition: Perfectbound
Cheeky Oscar escaped one day
from a big puppy farm.
This is a tale of his adventures,
rescuing others with his charm.
This is the heartwarming story of how one determined dog's escape from the harsh conditions of a puppy farm inspires him to rescue other mistreated doggies. Oscar is lucky to find a caring owner; Debra, who rallies the humans, while Oscar and his crew get other dogs barking in support of shutting down the cruel puppy farms.
However, Oscar's mission is not without mishaps. Hard as he tries, mischief always seems to find him, resulting in antics that will tickle readers and make them fall in love with him over and over again.
The Great Dog Rescue details Oscar's exciting and sometimes risky escapades saving puppies from lives of unkindness. Let brave Oscar and his adorable friends educate you about the dangers of puppy farms and the need for Oscar's Law. Encourage puppy lovers to buy their lovable furry friends from more trustworthy sources.
Born in August 1976, Natalie Batten was the youngest of four daughters and was raised in Melbourne, Victoria. Her childhood was a very happy one, and it nurtured her budding creativity. From an early age, Natalie was inspired to write creative stories and illustrated them, bringing her imaginative stories to life. After observing the young Natalie for some time, 'Ferny' (her most notable lead character) was so intrigued that he visited her. He had been looking for a trustworthy gatekeeper on Earth with whom to share the secrets of his world. This person would also be entrusted with the task of sharing these secrets when the time was right, in order to help innocent creatures. As a young girl, under Ferny's guidance, Natalie's artistic talents were intensified. She had extraordinary flair and a natural talent for creating pantomimes, dance concerts, games, puppet shows and movie scripts, capturing the hearts of other young children and adults as she entertained them.
Natalie went on to major in Art & Mathematics, and subsequently worked over 18 years in accounting and business management, finally progressing to contracting her business services directly. She also received 'recognition of prior learning' in Diploma of Accounting. But she didn't leave her inventive side behind. Natalie also completed several courses, including, Fantasy and Science Writing and Professional Children's Writing courses. She also completed art classes in 2014.
She explored several business ideas of her own, owning and operating her first business by the time she was 18 years of age. Remembering the valuable lessons from Ferny, every one of her ventures stimulated the imagination of children, ranging from live pantomimes and children's theme parties to handcrafted and painted themed bed suites for children and pets. Natalie's passion to encourage others to follow their dreams is evident in all of her writing, which has an inspirational undertone sprinkled with her sense of humour.
At the age of 30 (exactly 20 years from her first encounter with Ferny), Ferny returned to officially appoint Natalie as the Earth Gatekeeper and to tell her what the role would entail. She was to share the truth about imagination and protect the secret gateway between Earth and the dimension where Ferny lived. Ferny knew Natalie was ready. She would share the world of The Enchanted Empire® by writing fantasy books, and she would use her creations to help her four legged friends, like Ferny, on Earth. Her lifelong dream is to provide sources of enjoyment, entertainment and inspire the imagination of children of all ages using tales from the mysterious enchanting world.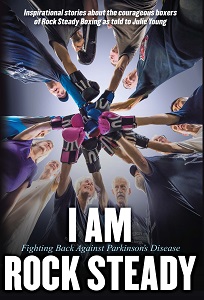 I Am Rock Steady: Fighting Back Against Parkinson's Disease
Pages: 158
ISBN: 978-145754-890-1
List Price: 18.99
Category: Health, Self-Help & Spirituality
Available: August 2016
Edition: Perfectbound
Rock Steady Boxing
The mission of Rock Steady Boxing is to empower people with Parkinson's disease to fight back. Rock Steady Boxing is a nonprofit organization that uses a noncontact fitness curriculum adapted from boxing drills that has been shown to decrease, delay, and even reverse the symptoms of Parkinson's disease. At RSB, Parkinson's disease is the opponent.
RSB expects that by the end of 2016, there will be more than 300 affiliate locations throughout the world and that the Rock Steady method will be a worldwide movement in the fight against Parkinson's.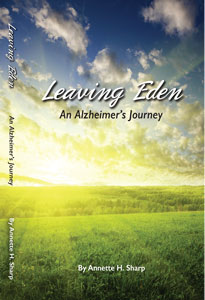 Leaving Eden: An Alzheimer's Journey
Pages: 364
ISBN: 978-145754-719-5
List Price: 24.95
Category: Health, Self-Help & Spirituality
Available: June 2016
Edition: Perfectbound
Every 67 seconds, someone in the United States develops Alzheimer's. Alzheimer's is the only cause of death, in the top ten in America that cannot be prevented or cured. Some caregivers make the decision to care for their parent at home. This is a difficult and potentially overwhelming task. Leaving Eden documents a five-year journey of a family make decisions and caring for a parent with Alzheimer's at home.
Annette Sharp's extensive career in public and non-profit organizations did little to prepare her for the caregiver role for her Mother. Perhaps being the oldest of seven children did. Identifying herself as a life-long learner, Annette researched Alzheimer's disease, the protocols, the medications, and the expanded list of behaviors. She regularly attended caregiver meetings in preparation for and during the five-year journey with her Mom. Ever the realist, Annette credits a sense of humor as the single, most-important tool in life and certainly on this journey. Leaving Eden is a compilation of all of these things as well as a composite story of the struggles of caring for a loved one diagnosed with Alzheimer's.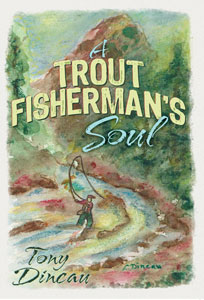 A Trout Fisherman's Soul
Pages: 188
ISBN: 978-145754-441-5
List Price: 12.95
Category: Autobiography & Biography
Available: March 2016
Edition: Perfectbound
When his father and grandfather introduced him to trout fishing at the Flag River in northern Wisconsin, eight-year-old Tony was—in a word—hooked. Stream fishing and its sense of exploration quickly took hold, and the thrill of catching the elusive trout by drifting a worm stuck with him forever. However, spending family time together proved to be even more rewarding.
A brush with mortality inspired the now-grown Tony to write A Trout Fisherman's Soul, a light-hearted memoir that passionately describes how four generations of family trout fishermen built a rich tradition on the Flag River near Lake Superior. Tony lovingly describes a trip with his brother and their two sons, intermingled with flashbacks to times spent fishing with his father and grandfather. He feels an even deeper kinship with them when he realizes he has become the person passing on the family's passion for the sport. A true testament to tradition, A Trout Fisherman's Soul reveals that in the end it's not the catch that feeds the soul, but the love of family.
Professional geologist Tony Dincau is an avid outdoorsman and devoted family man with his wife, Snezana, a son, two daughters, and a black Lab. He has worked for the past twenty-five years as an exploration geologist in the oil and natural gas industry in Cajun country: Lafayette, Louisiana. He earned a bachelor's degree in geology from the University of Minnesota- Duluth and a master's degree in geology from the University of Missouri-Columbia.
He visits his hometown of Proctor, Minnesota, a small railroad town, to keep ties with his family and the northland. A lover of kids and sports, Tony spent many years coaching his children's youth sports teams. He grew up as the oldest of three boys who all took a keen interest in athletic and outdoor activities.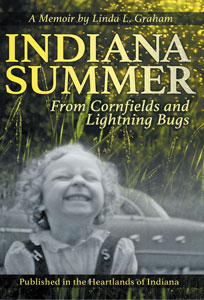 Indiana Summer: From Cornfields and Lightning Bugs
Pages: 156
ISBN: 978-145754-633-4
List Price: 12.95
Category:
Available: June 2016
Edition: Perfectbound
When Linda sets off to school for the first time, she is eager to learn to read actual words–not just repeat children's stories from memory. Right away, however, she is confronted by ridicule. Growing up in Indiana during the '50's and '60's, Linda searches for approval and acceptance by classmates, teachers, and family members. Feeling isolated and often rejected, she turns to the magic and beauty of nature and animals, finding momentary companionship.
In the compelling and often humorous memoir, Indiana Summer, Linda makes a discovery, but only after moving two thousand miles from rural Indiana, to the West Coast. Following the ordeal of a critical, endangering incident, she comes to a realization that changes her life.
Linda L. Graham loves reading and writing, and began creating her own stories at age nine. She is an instructor in English as a Second Language at a community college in the Portland, Oregon area. She has taught English and other subjects for a total of thirty seven years, both at the high school and college level. Prior to that, Linda served as editor of a state- wide tabloid newspaper.
Linda received her Bachelor of Arts degree in English from Warner Pacific College, Portland, Oregon. She earned a Master's Degree in Teaching from Lewis and Clark University, Portland, Oregon.
Linda lives in the Pacific Northwest, enjoying outdoor pursuits with her family, including camping, hiking, and swimming. She meets weekly with other local writers and participates in a book club and church activities. She and her two Manx cats reside in the Portland, Oregon area.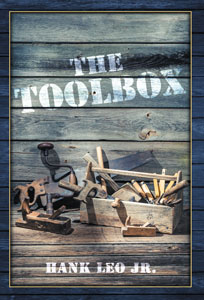 The Toolbox
Pages: 128
ISBN: 978-145754-708-9
List Price: 12.95
Category: Inspirational
Available: June 2016
Edition: Perfectbound
When he finds the rusty toolbox in the corner of his garage, Hank Leo is reminded of his dad and the numerous times he would contribute tools to that box. From hammers and nails to tape measures and markers, Hank Sr. was not only adding to his son's home repair kit, but to his repertoire of life management skills.
The Toolbox is a wonderful collection of stories that allows the reader to reminisce about their relationships with their fathers, their families, and God. Who would have known that weekly contributions to Hank Jr.'s chest of tools would come to mean so much to him later in life? Whether hunting with his mother-in-law, trying to change a headlight on his car, or offering comfort and support to a friend, Hank finds himself taking a second and third look at the tools his father left him, learning lessons from how they have worked through the ages and how their qualities and capabilities can be applied to everyday situations.
Hank Leo Jr. is an award-winning American author. His books, Home When the Streetlights Come On, God Called, In Your Hands, and Return to Allen Park, all leave readers with charming memories of a time gone by. Leo's use of honesty, faith, humor, and clever insight share positive messages with audiences of all ages.
His endearing stories of spiritual journeys, growth, acceptance, and inspiration have caused both young and old to pause, reflect, and smile.
Leo serves on a number of volunteer boards and committees, is actively engaged in a variety of charitable causes, and has been a leader in the nonprofit world for over thirty years.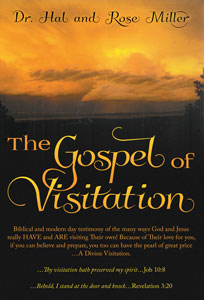 The Gospel of Visitation
Pages: 164
ISBN: 978-145754-363-0
List Price: 8.99
Category:
Available: March 2016
Edition: Perfectbound
Amazing and inspiring stories from the Bible, second-hand accounts from magazines and books as well as personal narratives that share visitations from God and our Lord Jesus Christ. The authors' goal is to encourage you to know that it is possible to have a personal talking and listening relationship with our Heavenly Father. There is a great controversy among people as to whether this is possible, or even should be attempted. If you are among those who believe and want a closer walk with God, then you will enjoy The Gospel of Visitation.
Hal and Rose Miller have been voices on a radio ministry, Christ at the Door, for 50 years. Hal was born and raised in Kansas and received a calling to preach and be a doctor. He was able to minister to many as a chiropractor as well as through the radio messages. Rose was born in Pennsylvania, grew up on a farm and loved animals. They lived on a farm in Goshen, Indiana for 53 years using their backgrounds to counsel and mentor others in living a life close to God and Christ. Recently they moved to Prescott, Arizona where they continue the Christ at the Door radio messages. They can be reached through www.rosemiller.net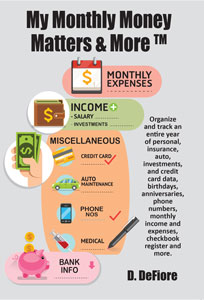 My Monthly Money Matters & More
Pages: 116
ISBN: 978-145754-631-0
List Price: 12.95
Category: Business, Investing & Finance
Available: May 2016
Edition: Perfectbound
My Monthly Money Matters & More
Learning how to manage money is a lifelong skill that requires dedication and patience. As the saying goes, "The art is not in making money, but in keeping it." A single mother has created a journal to help teach her son how to budget money, and she hopes people of all ages learn how to track, budget and manage their own expenses, income, savings, and investments.
In a convenient 5-by-7 format, My Monthly Money Matters & More provides a single place to organize and manage an entire year's worth of income and expenses. Specific areas can shelter personal information, passwords, memberships, insurance data, credit card data, and checking transactions. The journal also off ers space to remember birthdays, anniversaries and important phone numbers.
Author D. DeFiore designed the journal so its users can see where their income is going so they can properly budget and manage it. The more they use the journal, the more they focus on managing income and expenses and can work toward savings and investments—viewing all pertinent financial information at a glance. Incorporating monthly expenses such as groceries, home repairs and entertainment allows users to find places they might adjust their expenses to save for immediate or future goals.
Building on money-management skills learned in high school and college, My Monthly Money Matters & More allows easy transfer of information from year to year. It's a graduation, wedding or birthday gift that's simple to use and compact enough to take anywhere, making it easier than ever to keep financial information at your fingertips.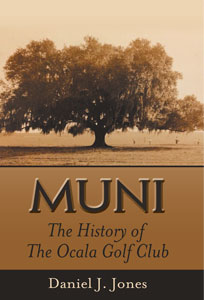 Muni: The History of The Ocala Golf Club
Pages: 120
ISBN: 978-145754-656-3
List Price: 18.95
Category: Nonfiction
Available: May 2016
Edition: Perfectbound
A long a busy stretch of Silver Springs Boulevard in the heart of Ocala, Florida, lies a golf course whose rich history is only matched by its unique charm. The Ocala Golf Club has been a part of the city's fabric for nearly eighty-five years. However, golf's origins in Ocala reach back even further to a time when the game was brought to America by a band of Scottish professionals and spread throughout Florida thanks to the deep pockets of the railroads. Muni: The History of the Ocala Golf Club explores this early history, as well as the people, rounds, and stories that helped shape the fairways and greens of this beloved course.
D.J. Jones grew up on the fairways of Ocala Golf Club and remains a devout "Muni Rat" to this day. His love of golf came practically at birth, as a fourth-generation golfer descending from not one, but two, career club professionals. A passion for the game and its early origins eventually led him on a yearlong quest to unearth the history of the course he is proud to call home. D.J. currently resides in Ocala with his wife Megan, and can often be found strolling Muni's fairways with his walker bag and a handful of clubs in tow.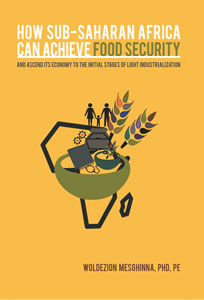 How Sub-Saharan Africa Can Achieve Food Security and Ascend Its Economy to the Initial Stages of Light Industrialization
Pages: 890
ISBN: 978-145753-963-3
List Price: 86.00
Category: Prof. Reference & Textbooks
Available: April 2016
Edition: Hardcover (No DJ)
Sub-Saharan Africa (SSA) is the portion of Africa located south of the Sahara Desert. It comprises most of the African continent and is home to the majority of Africa's population. Unfortunately, despite SSA's bounty of natural and human resources, the region is facing an ever-worsening food-security crisis largely due to stagnant and, in many cases, declining agricultural productivity combined with rapid unchecked population growth. The result has been widespread and endemic malnutrition, hunger and poverty, and the severe degradation of the region's environment. Confronted by these problems and more, SSA faces a bleak future of starvation and social collapse if traditional rainfed subsistence farming continues to be the dominant agricultural production system employed by the region's farmers. Traditional rainfed agriculture is practiced on 95% of the land currently being cultivated in SSA. It is in this context that this book, in an effort to help SSA countries, provides a comprehensive guide to science-engineering-based principles and methods that, if broadly implemented in conjunction with supporting government public policies and programs, could substantially and sustainably increase their domestic food production and associated improvements in living standards, reduce poverty, and foster multi-sector economic growth critical to the region's eventual ascension to industrialization.
Dr. Woldezion Mesghinna is an Eritrean American who immigrated to the United States in the 1970s. He attended Cornell University, where he received his Bachelor of Science and Master of Engineering degrees in civil engineering, and later attended Utah State University, where he received his PhD in agricultural engineering, with a primary focus in irrigation and drainage engineering. Dr. Mesghinna is a registered professional engineer in California, Colorado, Wyoming, Arizona, New Mexico, and Utah, and has testified extensively as an expert witness on water rights cases in the United States. He is the principal engineer and president of Natural Resources Consulting Engineers, Inc. (NRCE), which he founded in 1989. NRCE is a civil, environmental, agricultural, and water resources engineering firm that provides consulting engineering services in a wide variety of areas both domestically and abroad. Dr. Mesghinna has simultaneously managed the implementation of complex multipurpose water resources project developments in Africa, in the United States, and especially for Native American tribes. Dr. Mesghinna is fluent in English, Tigrigna, and Amharic.
Click here to view our books on Amazon.com
The focus of many of our authors' dreams is the telling of someone's life story, whether it is their story, that of a loved one, or someone they find just plain fascinating. Dog Ear builds books that beautifully showcase a personal story.
Business, Investing, & Finance
Business, finance, and entrepreneurial experts all turn to Dog Ear Publishing to create books that deliver value and benefit to their readers. Whether the topic is how to achieve financial independence, strategies for making a business more successful, or creating new sources of wealth, Dog Ear Publishing has built products to help authors in the business and professional community reach out to their core customers.
Our authors produce some amazingly beautiful children's books, all with wonderful stories. A variety of formats have been created, including square and portrait, paperback and hardcover - all available in full-color.
One of the great niche markets that authors are exploring is the world of cookbooks. Dog Ear Publishing can produce cookbooks in black-and-white and color, and both paperback and hardcover. We help our authors produce cookbooks about everything from wondeful ethnic food recipes to healthy cooking alternatives.
Our authors write on a variety of topics catering to specific niche audiences.
In the large category of Fiction, the old adage 'a picture is worth a thousand words' describes the importance of a great book cover. Dog Ear Publishing produces the finest book covers in the self publishing market - and our fiction books look stunning. No matter what genre of fiction our authors write on, Dog Ear will build an amazing cover to showcase the book.
Many Dog Ear Publishing authors produce books that help the reader get and stay healthy. Their expertise ranges from physical therapy to mental wellness to spiritual renewal. Dog Ear can build books that showcase exercises, charts, and images to help the reader understand best the instruction being given.
Encouragement, enlightenment, and enrichment can all be found within the books produced by Dog Ear authors.
Words can transform the world around us - and Dog Ear Publishing's poets showcase their works through the words they use to convey their emotions. Poetry doesn't have to flow in a single, straight line, but should move across the page in motion to the rhythm of the poet's thoughts. Our professional design team translates the poet's vision to the page.
Technical Products & Textbooks
Professors, scientists, doctors and technical experts of all fields have turned to Dog Ear to produce their books.