Cost: $399
Forward thinking authors know that the potential success of their books partly rests in their ability to reach and cater to a broad range of reader/consumer preferences.
Although physical books remain the leading format of choice, a tremendous opportunity for digital publishing has emerged.
Stylish new devices make the act of reading a digital book less taxing on the eyes while maintaining a tactile experience, albeit a different kind of tactile experience.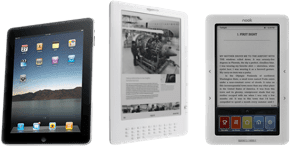 Publish your eBook with Dog Ear!
Our services to publish your ebook include everything your book requires to be available as an ebook:
Four major ebook channels exist today – and Dog Ear's all-for-one service covers the development and distribution of your book to all of them. Dog Ear Publishing will convert and optimize your book, and submit the resulting file to Amazon (for the Amazon Kindle), Barnes&Noble (for the Nook e-reader), Apple's iBookstore (for the iPad, iPod, and iPhone), and Google (GooglePlay). With Dog Ear Publishing's ebook conversion service you have access to more markets and more potential readers than ever before.
eBook Publishing Companies
eBook development and distribution is the conversion of your book's cover and content to a format usable by multiple ebook readers and digital devices (such as iPhones and Android devices) on the market. After Dog Ear has converted your book to an ebook format, it can be purchased and downloaded to almost all ebook readers and digital devices.
eBook Conversion and Distribution FAQ
What kind of books can become e-books?
eBook conversion is available for all of Dog Ear Publishing's varied book formats.
What is ePub?
ePub is the specific file format to which we convert your book. This format is required for your book to be compatible with the broadest range of e-readers and digital content devices.
What is the cost to have my book converted and published as an ebook?
Dog Ear will convert your book and provide distribution through all the major outlets for $399.
Should all books be converted to ebooks?
In our opinion, yes.
Will my ebook be competitive with ebooks from 'traditional' publishers?
YES! Dog Ear Publishing's ebooks offer the opportunity to self published authors to compete directly and effectively with the largest of the traditional publishing houses.
Who sets the retail price for my ebooks and what is typical retail pricing?
You, as the author, set the price. Typically you will see ebooks priced anywhere from $2.99 up to $9.99
How is my profit calculated when an ebook sells?
You will make 80% of all monies Dog Ear receives from the retailer through which your eBook has sold. Payment received from these various channels can fluctuate based on the discount they require and any applicable delivery fees charged by the retailer. In the typical ebook sale, the retailer's take is between 30% and 35% of retail. See our
Sales Payments
Page to see more profit details.
Can you please show me an example of how profit is calculated when an ebook sells?
Sure. First, as the author you get to determine the retail price. For this example, we'll select a $9.99 retail price. Second, the wholesale discount taken by the retailer can vary, but is typically around 30%-35%. For the purpose of this example we'll assume a 30% discount is taken by the retailer. Without further ado, the example appears below:
$9.99 (Retail) – 30% (Wholesale Discount) = $6.99 (NET Payment)
$6.99 (NET Payment) – 20% (to Dog Ear) = $5.59 (80% NET / Your Profit)
Can I change the retail price of my ebooks whenever I please?
Yes. Making changes to your retail price does involve a number of administrative steps here at Dog Ear. A price change fee of $25 will apply each time you decide to change your price.
Will decreasing my ebook retail price increase my sales?
Not necessarily. The ebooks that see a significant spike in sales when a dramatic price reduction is made are typically titles that are already selling quite well in the marketplace. We strongly feel that the meat of what a consumer is paying for is the content of your story and not the medium by which they consume your content.
What if I supplied a print-ready PDF file? Can you convert my book?
Yes. In most cases, Dog Ear Publishing's proprietary processes can convert PDF files.
Will my ebook look like the printed book?
In most cases, no. eBooks allow the
READER
a wide variety of choices in the reading experience. To accommodate this functionality we often need to simplify the font set and formatting from the print book version.
How will my ebook be priced? Can I choose my retail price?
Dog Ear Publishing will provide guidance on how to price your e-book – in the end, you are in charge of the retail price.
How much do I make on ebook sales?
As with print copy sales, Dog Ear charges a fixed 'cost' to the author. The author profit will be a function of the retail price you choose, the wholesale discount (the amount the account – like Apple's iBookstore or Amazon – keeps), and the fixed cost from Dog Ear. That's a long way of saying 'it varies' – give us a call and we can walk you through the different scenarios.
Does the ebook have to have the same price at all outlets?
Yes – the retail price on your e-book, regardless of the account selling it, will be the same.
How long does ebook conversion take? How long after my book is converted will it take to be available at the various 'e-tailers'?
eBook conversion usually takes about 15 business days. We immediately load the e-book to the retail sites upon conversion – and it will usually show as available for sale within a week or so… Amazon is always the quickest, Apple's iBookstore is always the slowest.
Do the e-book sales show up on the author's project page? When are e-book sales' profits paid?
Ebook profits are paid monthly along with print book sales through traditional channels of sale. Ebook sales can be viewed by selecting the eBook record in your author project system.
Can multiple e-readers 'share' my book? Can copies of my book be made and given away?
Each online system has differing levels of security (for example, at Barnes & Noble, an e-book may be 'loaned' for a specific period of time). However, the e-book may not be copied or printed.
Is an ISBN issued for my ebook?

Yes. ebooks receive a unique ISBN just like a hardcover or paperback have their own ISBN. Your books e-ISBN will apply to all channels, just like a print book's ISBN.
Where will consumers find and purchase my e-book?
The ebook version of your book will be distributed and available through Amazon (the Kindle platform), Barnes&Noble (the Nook platform), Apple's iBookstore (iPad, iPod, and iPhone) and Google's GooglePlay store. See below to find out more about the various channels
Amazon Kindle
Amazon, being the world's largest bookstore, also has its hand in the expanding digital book market. Its Kindle device and bookstore have been in the marketplace the longest of the Big Four digital booksellers. The Kindle store is host to over 750,000 unique titles and is growing larger each day. Having a Kindle format is a great way to cater to a new generation of readers that are already very familiar with Amazon, but prefer to purchase and immediately download a digital product. The Kindle also has a version for the PC, iPhone, and Android.
Apple iBookstore
Apple, is of course to many the 'coolest' technology company in the world – and Apple technology always opens new vistas to users. The Apple iBookstore and associated apps for the iPad and iPod continue Apple's tradition of amazing user-centric products. iBooks includes the iBookstore, where you can download the latest best-selling books or your favorite classics – day or night. Browse your library on a beautiful bookshelf, tap a book to open it, flip through pages with a swipe or a tap, and bookmark or add notes to your favorite passages.
Barnes & Noble Nook
Not to be left out, Barnes & Noble and its loyal followers can enjoy their digital product through the cleverly named, Nook. B&N continues to be a force in the book world with the largest number of physical bookstore locations in the world. They are a strong 2nd place contender in total online book sales. Availability in Nook format through B&N is a great way for independent authors to cover all the bases as they plan their digital book strategy.
Google Editions
Google has an ebook (Google Edition) and a media content store called GooglePlay, which allows the purchase of millions of titles through any Web-enabled computer, eReader, or mobile phone instead of a dedicated device.
Please note that very long or highly complex books, such as cookbooks and textbooks, present design challenges that may require additional fees.
If you have questions about the suitability of your book as an e-book, or questions about e-book conversion cost, please call us at 1-888-568-8411.